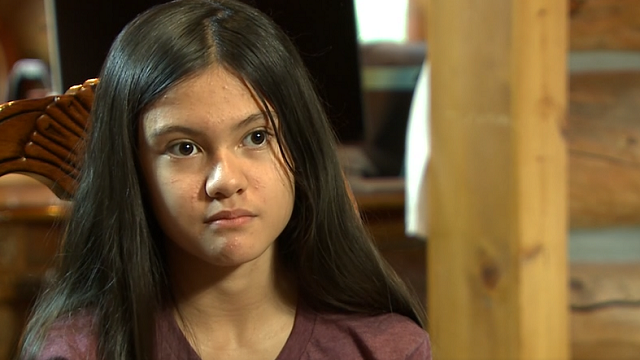 By: Laura Goldman
Alexis Bortell was diagnosed with epilepsy when she was a young child in Texas. Her prescribed medicine wasn't stopping the seizures she was experiencing every few days, so her doctors recommended invasive brain surgery. But there was an alternative, a pediatrician told her parents: medical marijuana.
The Bortells decided this option was much preferable to risky brain surgery. But because medical marijuana is illegal in Texas, the family had to pack up and move to Colorado, where it and recreational marijuana are both legal.
"I would die for her. Right?" Bortell's dad, Dean, told CBS News. "So the least I could do is uproot my life and give her a chance at the exact same freedoms and future I had."
For almost three years, Bortell, who's now 12, has taken a drop of liquid THC called Haleigh's Hope in the morning, and another drop in the evening. Since she began taking this strain of cannabis oil, she hasn't had a single seizure.
"I'd say it's a lot better than brain surgery," she told FOX31
Never give up. I won't! @AlexisBortell pic.twitter.com/Z4EuTYooZk

— Alexis Bortell (@AlexisBortell) September 14, 2017
There's only one problem: Bortell would really like to visit her grandparents back home in Texas, but she can't, because she wouldn't be able to take her two daily drops of medical marijuana – which is illegal there as well as in 21 other U.S. states, and prohibited on the federal level. And U.S. Attorney General Jeff Sessions has made it clear he doesn't want marijuana to be legal in any state.
"I think it's really unfair, 'cause I feel like they're basically punishing us because we're sick," Bortell told CBS News.
Knowing she's not the only one facing this dilemma, Bortell has filed a lawsuit against Sessions and the Drug Enforcement Agency (DEA), alleging that a federal ban on medical marijuana is unconstitutional since the drug has proven health benefits. She's hoping the lawsuit will, at the very least, normalize medical marijuana, and at best will make it legal nationwide.
After all, it really makes no sense that the federal Controlled Substances Act of 1970classifies marijuana as a "Schedule I" drug, alongside dangerous controlled substances like heroin, cocaine, meth and fentanyl.
"How is that rational?" Bortell's dad, Dean, asked FOX31. "It's not compassionate either, but rationality? It's just outrageous."
Bortell's attorney, Michael Hiller, agrees. "As it pertains to cannabis, the (Controlled Substances Act) is irrational and thus unconstitutional," he told FOX31. He said the U.S. government "made a representation that cannabis has medical application for the treatments of Parkinson's disease, HIV-induced dementia and Alzheimer's disease," yet simultaneously "maintains that there is absolutely no medical benefit for the use of cannabis. That is, of course, absurd."
Could Bortell's lawsuit be successful? Adam Foster, an attorney in Denver who represents marijuana businesses, told FOX31 it's probably a long shot. "Whenever you sue the government, the deck is really stacked against you," he said.
However, the government may have difficulty proving marijuana has no medical benefits. The Epilepsy Foundation, for example, supports "safe, legal access to medical cannabis if a patient and their health care team feel that the potential benefits of medical cannabis for uncontrolled epilepsy outweigh the risks." It adds that legal access to cannabis "will support increased research efforts and allow individuals who have failed to gain seizure control an option for treatment."
Things are looking good so far for the lawsuit: the government lost its first motion to have it dismissed.
TAKE ACTION
Bortell and others shouldn't have to move to other states to treat their medical problems. Please sign and share this petition urging Sessions, the DEA and the Department of Justice to make medical marijuana legal nationwide.
Source: www.care2.com